Perth often referred to as 'The City of Light' is one of Australia's many hidden gems, because of its location on the West coast and how far away it is from other cities, it is often overlooked by tourists and backpackers. However, I think it should be a definite stop on every backpacker's list.
Getting to Perth
Perth is one of the most isolated major cities in the world. The nearest city is Adelaide, over 2,100 km (1,305 mi) away. Making getting to Perth using anything but air quite a journey. If you're traveling from the East Coast of Australia (Sydney) it can take 41 hours of constant driving to get there, make sure you stock up on water, food, and gas as after Adelaide it'll only be little towns few and far between the whole way to Perth.
If you're traveling from the EU or US it is one-stop and can usually take about 20 hours, however, the cheaper you pay the longer it will take and the more stops you'll have to make. I highly recommend that you check out Skyscanner for the best flight prices. With Skyscanner, you can actually search by month to see an overview of the cheapest days to travel to Sydney. Doing this could save you a few hundred dollars on your flights!
How Many Days Do You Need?
As always this is a hard question to answer as everybody is different, but I personally feel you can experience everything Perth has to offer in 3 days. In this short time, you should be able to be all the city has to offer and some of the tranquil beaches scattered around the coast of Perth.
Things To See In Perth
With an array of peaceful and bustling sites dispersed around Perth, it can be hard to narrow down which ones you should go and visit, so I made a list of some of the most popular places and some information about them to help you to decide:
INNER CITY
Kings Park and Botanic Garden
Right in the heart of Perth lies one of the biggest city parks in the world, it's even bigger than Central Park! Inside the Park, there are amazing views of both the Swan River and Darling Range, along with an overview of the whole of Perth's CBD.
This tranquil paradise also has a treetop bridge, pristine gardens to explore, and small, charming cafés for you to rest at.
For me, it is the go to place for any tourists or backpackers wanting to explore the best of Perth.
The Bell Tower
Located near Elizabeth Quay this rocket-shaped Bell Tower is sure to grab your attention the moment you see it. Inside you can take a free staircase to the top and see the nice view 360-degree view of the city. However, if you get a ticket upon entry you get a guided tour and demonstration of the original 14th-century bells from Saint Martin in the Fields Church, the parish church of London's Buckingham Palace.
All the love birds going can also pay to get a personalized "love lock" to put on the chain-link fence at the front of the tower.
OUTER CITY
Rottnest Island
Just a quick ferry ride away from the Perth CBD is one of the cutest day trips money can buy! Rottnest Island besides being home to breathe taking white sand beaches and secluded coves are also home to the quokka, known as "the happiest animal on Earth" is a breed of Wallaby that is extremely photogenic and will always deliver a smile if you want a selfie with them.
Cottesloe Beach
This beach consists entirely of beautiful white sand spanning 0.6 miles. It is one of Perth's most popular destinations for anyone that wants to swim, surf, or even just relax and enjoy the sun. From the city center, you can see this glorious site within 15 minutes if you catch the train on the Fremantle line.
Fremantle
It's easy to get lost in the hustle and bustle of the inner city of Perth. But just a 40-minute train down south from the city center is a quaint, and tranquil part of Perth often overlooked by most tourists. All the buildings and (personality??) have a very 'classic western Cowboy' look to it where stepping off the train feels like a step into the past. There are plenty of peaceful little coffee shops and bars to go into.
Or just an 8 minute walk from the train station 'The Roundtower' will give you a great look down the main street of Freemantle or a beautiful serene look onto the beach on the other side.
Perth Travel Guide: Things To Do In Perth
Surf one of the many spectacular beaches scattered around the coast.
Visit the quokkas on Rottnest Island.
Enjoy a coffee in a hipster café in Fremantle or Cathedral Square.
Go snorkeling with Dolphins in Rockingham
See some of the famous landmarks around the city.
Relax on one of the beaches and enjoy the sun.
Day Trips Near Perth
Rockingham and Penguin Island
Only an hour car ride away lies one of the best experiences Perth has to offer. Rockingham is known primarily for its unforgettable wild dolphin encounters. Rockingham Wild Encounters allow you to get up close and personal with these amazing animals, once you board the boat in Rockingham you are brought out in the purist of the playful dolphins. Once you find some you're able to get in the water in small groups and swim with them.
If you're looking for more cute encounters after that your guide will then bring you to Penguin Island, aptly named for being home to wild penguins.
The Pinnacles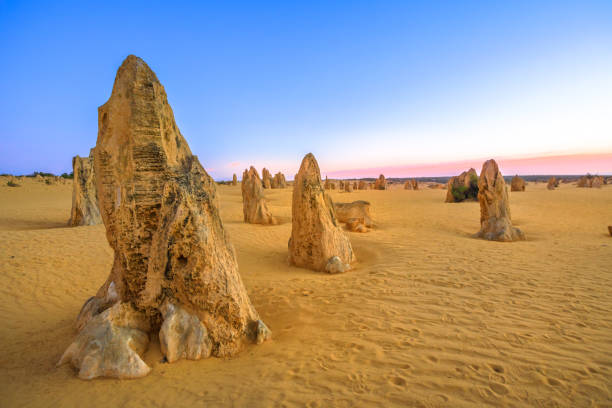 Admittedly not people's first choice, but these astonishing limestone formations will make you feel like you just stepped off a spaceship onto Mars!
You can find these amazing formations in Cervantes, a small town north of Perth. Cervantes is the gateway to Nambung National park which contains the Pinnacles Loop, it can be driven or walked in less than an hour. On this Loop, you will see the perplexing Pinnacles and wild emus are known to inhabit the area.
Getting Around Perth
Unlike Sydney and other big cities in Australia, Perth is a lot more manageable by car as it isn't as busy. However, if you want to take the city driving stress out of your stay there is a great bus and a train line that goes to all areas of the city. You can also get a Smart Rider card if you're going to be there a while which makes getting on and off the public transport a lot easier as you can just tap in and out of all the stations and stops.
Accommodation
Hotels: On average, a 3-star hotel in Perth costs AU$62 per night per person, while a 4+ star hotel would typically cost you over AU$120 per night.
Hostels: The average price per person for a night in a Perth hostel is AU$20-30 per night. Choosing to stay in hostels, will be a major boost to your traveling budget. However, trying to find good hostels to stay in can sometimes be difficult, that is why I highly recommend that you use Hostelworld to book your budget accommodation. Hostelworlds best feature is being able to see other traveler's reviews and opinions on the hostels before you book. Some of the most popular hostels in Perth include Fremantle Prison YHA, Spinner Backpackers, The Emperor's Crown & the Hive.
Airbnb: There are plenty of listed accommodation in Perth on Airbnb with places for each budget. Since you would typically be staying in a room in someone's house, this can be a great way to meet locals and find out more about the city. If you think this option best suits you check out our Airbnb code here to get up to AU$73 off:
AIRBNB CODE
Additional Questions
Here are the answers to some other things you may be wondering before travelling to Perth:
What is the weather like in Perth?
Perth has a Mediterranean climate with hot, dry summers and mild, wet winters. It is the sunniest capital city in Australia with clear blue skies and an incredible 70% of the year!
Where should I go for a good night out?
Perth isn't known for its nightclub scenes like Carnes or Sydney but it does have some hidden gems like the Penthouse Club Perth and the Geisha Bar, both are sure to satisfy your trust for a good night out on the town.
Perth Travel Guide: Conclusion
There you have it! I hope this Perth travel guide was able to answer a lot of your questions and concerns about traveling to Perth. Make sure to enjoy your stay, it's a beautiful city with plenty to do. If you would like to learn more, make sure to check out some of our other posts for everything related to backpacking Australia!